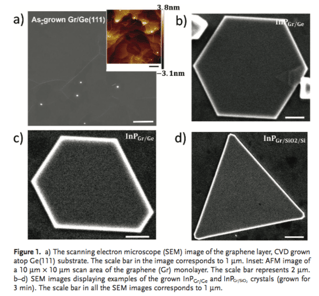 A recently published paper in Advanced Functional Materials studies the InP growth and luminescence on graphene. The results of the research contribute to the development of hybrid structures in integrated photonic and optoelectronic devices. They also show the advantages of combining multiple imaging techniques to get a complete picture of the crystals.
The benefits of quasi van der Waals heteroepitaxy over direct heteroepitaxy are explored in the paper through demonstration of the monocrystalline InP growth using graphene as an interfacial layer. The optical properties are investigated through room temperature nano-cathodoluminescence (CL).
The CL measurements were performed with the use of the SPARC cathodoluminescence system and were done by Dr. Toon Coenen, the application specialist on cathodoluminescence at DELMIC. Should you have any questions related to this paper, please do not hesitate to send him an e-mail at coenen@delmic.com.

Read more information about cathodoluminescence and learn about the latest achievements in nanophotonics, geology and materials science.