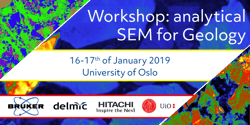 Join a two-day intensive workshop in Oslo, which will focus on advanced analytical tools and methods for geological applications. The workshop will consist of the lectures from invited speakers and hands-on sessions, which will cover cathodoluminescence (CL) tools & methods, EDS & EBSD tools & methods and mineralogy software.
This workshop is a joint collaboration between the leaders of the microscopy field Hitachi, Delmic, Bruker and the Geology department of the University of Oslo. The workshop will take place on the 16th and 17th of January 2019 at the University of Oslo and will consist of talks, intensive discussions and hands-on sessions, which will demonstrate the possibilities of the imaging tools. Read more about the program here.
Register for the workshop by clicking on the button below:

If you want to stay updated about the latest events, including webinars, conferences and workshops organized by Delmic, please fill in the form below.