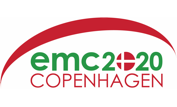 We are excited to announce that we are preparing to join the biggest European microscopy event of the year: European Microscopy Congress 2020, which will take place in Copenhagen from 23rd until 28th of August.
The European Microscopy Congress 2020 (EMC 2020) will be hosted by SCANDEM, and is organised by the Royal Microscopical Society under the auspices of the EMS and IFSM. The event will gather scientists and companies from all over the world and will cover multiple microscopy techniques, latest developments and findings (you can check the full overview here).
If you are planning to visit this event, we are happy to let you know that you will be able to find us at our booth! We will be bringing some of our systems for demonstrations, including our cathodoluminescence solutions SPARC Spectral and JOLT. We will also be introducing our two new product lines, one of which is aimed to simplify the complex workflows involved in cryo electron tomography, while another will help to increase imaging speed without sacrificing image quality with an automated multibeam scanning electron microscope. We will also be organising educational presentations about various microscopy techniques at our booth. Finally, we are bringing several application specialists and experts, so you will get a chance to talk with them and ask them any questions .