Demonstration key points:
You will learn about the challenges that METEOR is designed to overcome
See the product design and FIB/SEM compatibility
Discover how to simplify the lamella preparation workflow using METEOR
Visualize high resolution data obtained with the system
Learn how you can acquire fluorescence light data easily using METEOR
Ask our experts directly
Time and date
The demonstration will take place twice, on the 28th October at 10AM (CET) and the 29th October at 6PM (CET). Choose the time that fits you the most and make sure to register below:
Don't miss the opportunity to see how METEOR can optimize your cryo electron tomography workflow, boost productivity and improve cost efficiencies.
More information about METEOR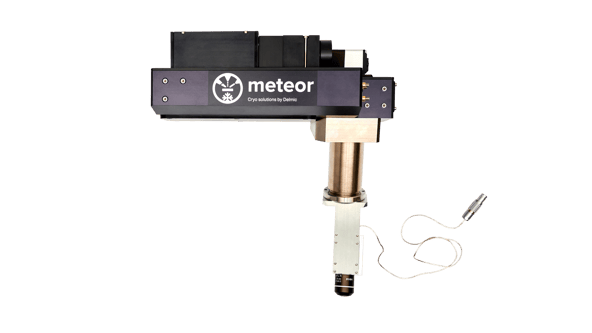 METEOR is an add-on system for cryo-CLEM. By integrating a fluorescence light microscope (FLM) into your existing FIB/SEM, METEOR can greatly simplify the complicated lamella preparation workflow to 7 steps by minimizing the number of transfer steps.
It will not only help increase your sample yield but also guarantee better sample quality as a result of having less sample damage, contamination and devitrification, which otherwise occur during sample transfers. In addition, it is easy to reinspect the sample with FLM after the milling process, ensuring the target area is captured in the lamella. METEOR is compatible with your transfer systems and sample holders, and therefore highly adaptable to your workflow.
This work is supported by the Eurostars grant № E13008 - CETFlow