Cryo-electron tomography (cryo-ET) is an extremely powerful technique that allows studies of the cellular landscape at high resolution in a near-native state. The power of cryo-ET is undisputed but the fact that the workflow is very contamination prone has limited the number of high-quality publications.
In this webinar, our Application Specialist Marit Smeets will discuss the crucial steps in the cryo-ET workflow that contribute most to sample contamination and dive into the new developments that allow reduction of contamination in Cryo-ET altogether. She will present our all-in-one solution: the CERES Ice Defence System. The system is tailored to minimize ice contamination at the different steps of the workflow – sample preparation, transfer and lamella generation, with corresponding tools – CERES Clean Station, CERES Vitri-Lock and CERES Ice Shield.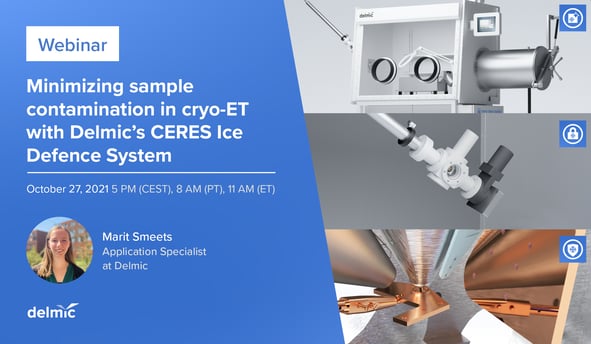 During the webinar, Marit Smeets will walk you through the details of the three tools and show how researchers can obtain more data and get more insights into highly relevant biological processes using the CERES tools in their cryo-ET workflows. Register now to reserve your spot! Scroll through the form to submit all your details and receive the link for the live session.