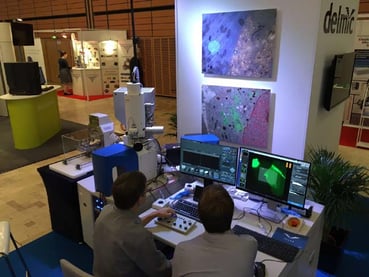 Next week, you can meet us at the Microscience Microscopy Congress, taking place in Manchester. We will be located at the stand of our UK distributor, Blue Scientific. Here, we will present a mock-up of the SPARC Compact, a variation of the SPARC SEM cathodoluminescence system which is designed specifically for researchers in geology and materials science who want to conduct fast measurements using a photomultiplier tube. The prototype that we we will be presenting will give you a chance to get a feel of this practical, modular system.
This conference also marks our first collaborate event with Blue Scientific, and we hope to expand our involvement with the UK market. We already have a SECOM (a correlative light-electron microscopy solution for the life sciences) installed at the Francis Crick Institute, and a SPARC at King's College London.
The following month, on August 6 to 10, we will be present at Microscopy & MicroAnalysis, taking place in St. Louis, Missouri. Here, you can meet us at the stand of our North American distributor, NanoScience. We invite anyone who is present at either of these conferences to meet us for fruitful discussions or just a cup of coffee.
(Image: Delmic at EMC 2016)