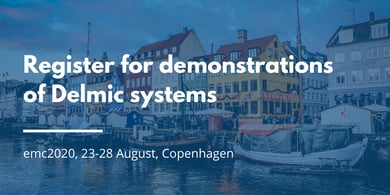 The registration for the demonstrations at Delmic booth during the emc2020 is now open! emc2020 is the European Microscopy Congress which will take place in Copenhagen from the 23rd until 28th of August. If you have been looking for a chance to see Delmic systems in action and you are attending emc2020 this is your opportunity to secure a private demonstration!
What demonstrations can you sign up for?
At our booth we will be showcasing our cathodoluminescence detector SPARC Spectral together with the time-resolved module Lab Cube. During three days we will be using geological sample (Tuesday 25th), materials sample (Wednesday 26th) and nanophotonics sample (Thursday 27th) to show the possibilities of the SPARC Spectral.
→ Register for the demonstration of SPARC Spectral
On Monday 24th and Friday 28th you have a chance to see the newest member of our CL solutions product line, JOLT, a panchromatic and RGB cathodoluminescence detector, which is perfect for simple and quick inspection of geological and optoelectronic samples.
→ Register for the demonstration of JOLT
During the last three days of the exhibition, we will be running demonstrations of Delphi, a fully integrated SEM and fluorescence microscope, which is a unique all-in-one solution for correlative microscopy.
→ Register for the demonstration of Delphi
Finally, for the first time we will be introducing our fast electron microscopy solution. We will be revealing more information about it in the upcoming months, and the official launch of the system will happen during the emc2020. If you would like to be the first one to experience this fast automated solution capable of examining large samples with a high sustained throughput, then reserve your remote demonstration.
→ Register for the demonstration of Fast EM solution
Apart from regular demonstrations, you can choose a special type of demonstration, during which we will measure your own sample. These demonstration slots are very limited, so make sure to reserve your spot soon!
In the next few months we will reveal other exciting activities at our stand, including on-booth workshops on cathodoluminescence and other techniques. You will be register for those very soon too, so stay updated! If you have any questions, please don't hesitate to contact us!