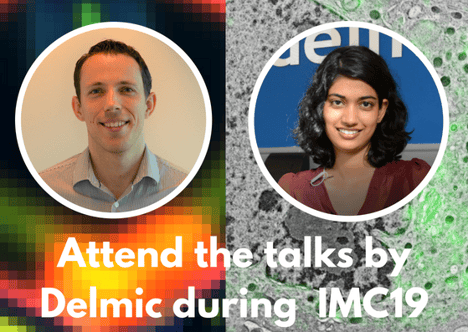 If you are coming to the IMC19, which begins in only 10 days, you are probably busy with arranging your schedule to make sure that you don't miss any interesting talks, presentations and demonstrations. We are happy to tell you, that Delmic's application specialists will be giving the talks during the IMC19 too and we would like to invite you to attend them!
Dr. Sangeetha Hari, our SECOM specialist, will have an oral presentation "Large area automated image acquisition for integrated CLEM". The presentation will take place in the meeting room C4.10 on 13th of September (Thursday) at 15:00.
If you are also interested in cathodoluminescence detection, make sure to visit the mini-oral presentation by Dr. Toon Coenen, our SPARC specialist, "Energy‐momentum cathodoluminescence microscopy for nanophotonics", which will be held at Mini Oral Theaterette 1, on 12th of September (Wednesday) at 16:45.
Additionally, we would like to invite you to attend these talks by our collaborators and partners. Pieter Kruit, the professor from TU Delft and co-founder of Delmic, is an invited speaker who will talk about "Multi E-beam systems for microscopy and inspection" on 10th of September (Monday). The talk will start at 10:45 in the meeting room C4.11. Another speaker from TU Delft, Wilcom Zuidema, will have a presentation "Development of a high throughput SEM" on 11th of September (Tuesday) at 14:45.
Dr. Sophie Meuret from AMOLF institute is invited to talk about time-resolved cathodoluminescence on 12th of September (Wednesday) at 14:00 in the meeting room C4.3. On the same day Amelia Liu from Monash University will have a mini-oral "Real‐space cathodoluminescence imaging of silver nanowaveguides" at 12:55 in Mini Oral Theaterette 1.
And don't forget to register for the demonstrations of our systems at our booth 47-50 if you haven't done so already: